Professor Green to headline Dumfries Youth Beatz festival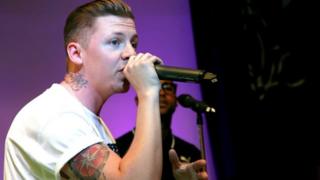 British rapper Professor Green has been confirmed as the headline act at a free youth music festival in Dumfries.
The Youth Beatz event will take place at the new venue of the David Keswick Centre on 10 August.
It has previously been held in the town's Dock Park and attracted thousands of young people in its four editions to date.
Professor Green said he was delighted to be headlining the south of Scotland festival this year.
"I've heard the atmosphere is amazing and can't wait to experience it myself," he added.
Organisers have promised there are more acts to be announced in the coming weeks.
Youth Beatz 2013 remains free to enter, although tickets will be required and can be obtained via the event's website.
'Great chance'
For the first time priority will be given to ticket applications from Dumfries and Galloway postcodes to ensure as many local residents as possible get to attend the festival.
Thomas Nicol, who is helping to organise the event, said: "We are delighted to have secured Professor Green as our headline act this year, we can't believe how far the event has come in such a short space of time.
"Youth Beatz is a great chance for young people to come together and create something really special."
A new Youth Festival will run in Dumfries for eight days leading up to Youth Beatz.
A full programme for the festival will be announced over the coming weeks.