George Johnston and Steve Hislop: Borders duo driven to succeed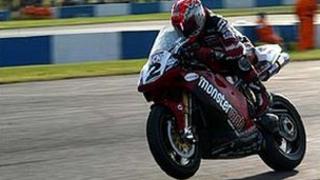 The shortest road journey between West Linton and Hawick in the Borders is a little under 50 miles in length.
Most route planners estimate it should take about an hour and 15 minutes.
But two men born in those south of Scotland towns might well have been tempted to believe they could shave a few minutes off that time.
George Johnston and Steve Hislop are among dozens of new names from the world of motoring added to the Oxford Dictionary of National Biography.
The former was born in West Linton, Peeblesshire, in August 1855 - the third child of the town's United Presbyterian minister.
The latter first saw the light of day at the Haig Maternity Hospital in Hawick in January 1962.
Yet, despite being separated by more than a century, they are linked by a love of motorised vehicles - Johnston's with four wheels, Hislop's with just two.
'Horseless carriage'
Johnston's family moved to Glasgow when he was young and, by the age of 15, he was an apprentice engineer at the Neilson and Co locomotive works.
He studied engineering and mechanics and among his early designs was a device to divide dough used for bread-making.
Johnston was later invited to trial a mechanical steam tram car he had designed on the Glasgow Tramways.
"The experiment ended in failure when the vehicle caught fire in George Square," notes the ODNB.
However, it prompted him to turn his attention to the internal combustion engine, a field in which he enjoyed more success.
By 1895 he had acquired one of the first automobiles to arrive in Scotland and, with the assistance of two fellow engineers - Norman Osborne Fulton and Thomas Blackwood Murray - set about improving its design.
Within months they had a petrol "dog cart" ready for road trials and, in November 1895, Johnston drove it at 12 miles an hour on a 20-mile journey across Glasgow.
He would end up being charged with contravening the Locomotive Act by driving his "horseless carriage" during prohibited hours along Buchanan Street.
A few months later he drove it an unprecedented 110 miles over rough roads to "beyond Ayr and back".
Unfortunately for Johnston, although the idea caught on, he seems to have missed out on financial success.
His engineering partners set up the Albion Motor Car Company in 1899 without him.
Instead, he was part of the Mo-Car Syndicate with Sir William Arrol as chairman and Johnston as managing director.
In May 1901 its works in Yates Street, Camlachie, were destroyed by fire and the loss was estimated at £10,000.
By 1905, the business was bought over and relaunched as the Arrol-Johnston Car Company but without either of the men whose names it carried being involved.
Johnston set up his own company but, although it had good financial backing, it was in liquidation by 1907 and he was declared personally bankrupt.
Later in life he moved to Mexico before returning to Edinburgh where he died in November 1945.
His pioneering role in motor travel had never brought him the financial rewards it might have done.
'Flawed genius'
The Hislop story is one lived at the more hectic pace of the modern era.
He came from a motorbike racing family and grew up on tales of another Hawick rider and local hero Jimmy Guthrie.
It inspired him to a hugely successful career of his own and he was twice British superbike champion and one of the most successful riders in the history of the Isle of Man TT races.
As the ODNB notes he was "widely regarded as one of the most naturally talented and smoothest riders of his generation".
However, it adds that he developed a reputation as a "'flawed genius', unbeatable on his day but on others exasperatingly off the pace".
"Hislop further inhibited his prospects by retaining a direct and outspoken personal style, and disdaining the commercial and corporate expectations of international racing."
That, as the dictionary notes, only seemed to enhance his domestic status and popularity.
His life was cut short while flying a helicopter in the Borders in 2003.
A fatal accident inquiry later concluded he had crashed and died after the aircraft went out of control in cloud.
He was just 41 years old.
Hizzy, as he was widely known, is the subject of a number of statues as well as a memorial run in his honour staged every year.
The Borders is understandably proud of the achievements of its motoring sons.
Now a couple more of them have steered their way inside a prestigious dictionary of biographies.