Flipped car causes Dumfries town centre traffic problems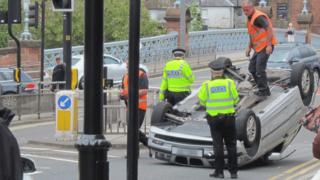 A car which flipped onto its roof on a busy town centre street has caused traffic delays in Dumfries.
The incident happened at about 13:45 on Thursday as the vehicle attempted to turn at traffic lights from the Whitesands into Buccleuch Street.
It hit barriers at the side of the road and turned over onto its roof.
A Police Scotland spokesman said the male driver - the car's only occupant - had not been badly injured but had been taken to hospital for check-ups.
The crash caused traffic problems through the centre of the town as work went on to remove the vehicle.
There were lengthy queues on Buccleuch Street with cars having to pass the scene of the incident in single file before the roadway was cleared.