Neil Armstrong links celebrated in Langholm exhibition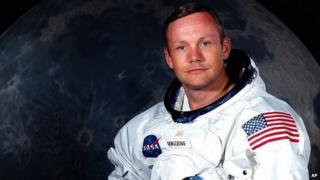 An exhibition is celebrating the historical family links of Neil Armstrong with Langholm and his visit to the area in 1972.
The Dumfries and Galloway town is hosting two weeks of events in honour of the first man to walk on the moon.
A series of talks, astronomy guides and a church service are part of the proceedings running until 15 June.
Mr Armstrong, who died last year, visited Langholm in 1972 - three years after his lunar landing.
The town is considered a Clan Armstrong stronghold.
It invited its "famous son" to visit following his moon walk in 1969 and made him the first Freeman of Langholm.
The exhibition in his honour, From the Moon to the Muckle Toon, was officially opened by David Stevenson - the second man to receive such an honour.
It brings together photographs, documents and newspaper articles, and video footage from his visit to the town.