Snow-hit farmers urged to seek aid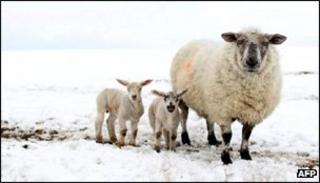 NFU Scotland has urged farmers to apply for a share of a £6m support package available to those badly affected by recent spells of severe weather.
It opened to applications this week after being announced by Rural Affairs Secretary Richard Lochhead last month.
It followed snows in March which had a severe impact on areas like Dumfries and Galloway, Arran and Kintyre.
NFU Scotland president Nigel Miller said the scheme could provide a "cash flow lifeline" to the industry.
The Weather Aid scheme offers help to those hit by the severe snows but also farmers affected by extreme wet weather in the last year and sandstorms in early May this year.
The application form and detailed guidance is now available on the Scottish government website.
Applications must be made before the closing deadline on 5 July.
Mr Miller said: "The weather of 2012 left many farm businesses in a difficult position and the spring of 2013 has been both exceptional and extreme and had a huge impact on many livestock and arable farmers in the country.
"Our recent survey underlined the costs farmers have faced and showed that half of respondents had extended their borrowings in recent weeks with 13% having difficulties in securing further credit.
"This package recognises that and has been designed to help those who have lost critical numbers of stock or will rear significantly fewer animals this season.
"It will also assist those who have had to strip out and replant large areas of failed crops."