Duke of Roxburghe aims to encourage Kelso allotment use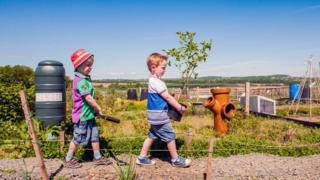 The Duke of Roxburghe has officially opened about 60 allotments available to people looking to grow their own food in the Kelso area.
He has leased two acres of land on part of Floors Home Farm for the next 10 years.
It is part of an initiative by Roxburghe Estates and the Kelso Allotment Society.
A number of local children were on hand to plant a blueberry bush to mark the occasion.
The scheme has seen the erection of a new storage building, fencing and parking and paths.
Much of the work was carried out by the local allotment society in collaboration with Roxburghe Estates.
'Fantastic pastime'
Some of the funding was provided through the Roxburgh Communities Grant Scheme and by Kelso-based charity Begins at Home.
Scotland's Environment Minister Paul Wheelhouse has praised the scheme.
He said gardening was a fantastic pastime which was environmentally-friendly, healthy and social.
He was particularly impressed that an area for young people's allotments had been created.