Pupil sex teacher Eppie Sprung Dawson 'abused as a teenager'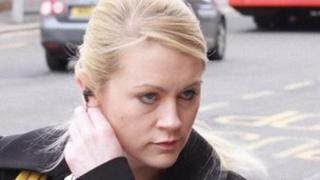 A court has been told a Dumfries teacher who breached a position of trust by having sex with a pupil was herself sexually abused as a teenager.
Dumfries Sheriff Court heard Eppie Sprung Dawson was abused by a man 29 years her senior when she was between 13 and 18 years of age.
She had previously admitted having sex with a 17-year-old student.
Sentence was deferred so she could undertake psycho-sexual counselling but she was told she would not be jailed.
Police found Sprung Dawson in a car with one of her pupils at St Joseph's College four days before Christmas last year.
They were both partially undressed.
She was 26, the boy 17, so the relationship was not in itself illegal.
However, the teacher was charged with an abuse of trust which she admitted in court in March.
Appearing for sentence, Sprung Dawson's solicitor David Finnie revealed that she herself was the victim of "fairly serious sexual abuse" as a young teenager, at the hands of a much older man.
He said it did not excuse her behaviour, but gave some explanation as to the background.
Mr Finnie described Sprung Dawson as a gifted, talented and committed teacher who was dedicated to her job.
He added: "I would refer to the limited nature of the libel - it was an incident on one occasion.
"We are not dealing in any way with a more extended period of abuse.
"This is one incident and one incident alone."
'Lack of malice'
He said there was a "complete lack of malice" on his client's part.
"There was no intention whatsoever to cause any harm or difficulties or problems for the young man."
He pointed out it was an incident involving a woman who was 26 years of age and a teenager of about 17 and a half.
He said that was very important when looking at a sentence.
It was less serious, he argued, than a person who was perhaps 54 years of age and another who was 16.
"The offence is caused by the breach of trust and the breach of trust alone," he said.
"Were it not that Mrs Sprung Dawson was in a position of trust, the act itself would not have been criminal."
Appealing for his client not to be sent to prison, Mr Finnie said she had already suffered the punishment of a wrecked career and wrecked marriage.
"Mrs Sprung Dawson has all the facets that one would require to make a first class teacher - that, she has thrown away," he said.
Sheriff George Jamieson deferred sentence until 10 July to give Sprung Dawson the opportunity to attend psycho-sexual counselling.
He said there was nothing to be gained by sending her to jail and indicated that the likely sentence was a community payback order.
"It has been made plain to the public that you have been the victim of sexual abuse in the past," he said.
"In this case, the offence you are charged with is called abuse of trust, but it was breach of trust - you did not abuse anyone.
"Had you not been this young man's teacher there would have been no offence."