Dumfries Dental Centre repair costs revealed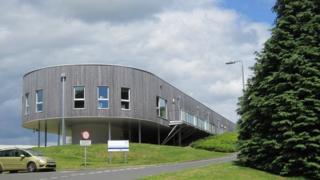 A health facility that opened about five years ago and won design awards has had to undergo nearly £100,000 worth of repairs, it has been revealed.
The Dumfries Dental Centre, which sits next to the town's infirmary, suffered water damage due to problems linked with its flat roof and guttering.
The underground drainage system also failed, causing leaks in the building.
NHS Dumfries and Galloway said the cost of repairing the roof and guttering was just under £97,000.
A report to the health authority has also revealed that the architects who designed the building are no longer in business and pursuing compensation would, therefore, be both difficult and costly.
However, discussions are said to be ongoing with the Central Legal Office for NHS Scotland to ensure all avenues are explored.
As a result of the design flaw identified, no future NHS building projects will include flat roofs or the integral guttering which caused problems on this occasion.