Dumfries and Galloway College sport centre plans unveiled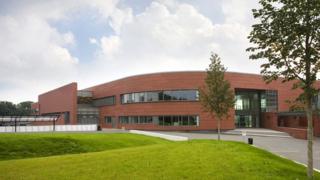 Plans have been unveiled to create a new sports centre within the Dumfries and Galloway College complex.
The £250,000 investment will see office space turned into a fitness suite including exercise equipment, changing rooms and a reception area.
The development follows a review which highlighted increasing demand for places on sports courses.
The facility - to be ready by August - will open to the community to allow students to get work experience.
College Principal Carol Turnbull said: "Demand for sports related courses has grown steadily over the last few years as people become more aware of the importance of health and wellbeing.
"I am certain that this investment will provide first class facilities for our students and communities.
"As well as offering an enhanced curriculum that will lead to increased employment opportunities we aim to attract sports athletes from across Scotland to access these facilities and the expertise of our staff."
'Full support'
Sports Minister Shona Robison also welcomed the development.
"We need to make sure we are giving young people every chance to participate and succeed in sport," she said.
"Dumfries and Galloway College's refurbished sport and fitness facility will not only benefit students and staff, but will also allow the local community to have access to brand new facilities.
"Of course, any project that has the potential to bring local communities together and offer more opportunities for people to benefit from physical activity has my full support."