Scottish Borders Council prepares winter gritting plans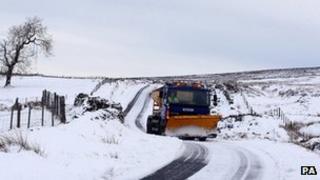 Community councils and other groups are to be consulted before Scottish Borders Council decides on its winter services provision for the coming year.
Changes are being proposed in the priority order given to gritting and salting the region's routes.
Last year more than 100 miles were cut from the "primary network", causing concern in some rural areas.
Councillor Gordon Edgar said the authority tried to do its best within tight budgets.
He chairs the council's environment and infrastructure committee which has responsibility for prioritising the treatment of the region's roads.
"SBC tries to provide the safest routes for the people within the community of the Scottish Borders," he said.
"We have a certain limit of funding to do that.
"We do our best in all conditions that are thrown at us."
However, he said he accepted that sometimes it was not possible to get roads treated as quickly as people would like.
"We do try to get the service there as soon as possible," he added.
Mr Edgar said there was also the opportunity for a request to be made for a road to be reassessed if residents felt it should be reinstated on the primary network.