New Dumfries hospital funding announcement 'imminent'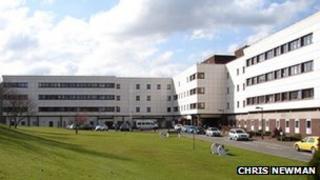 An announcement is understood to be imminent on funding for a £200m new general hospital in Dumfries.
The Scottish government has been considering an outline business case for the development.
NHS Dumfries and Galloway said it would be able to confirm the outcome in the next few days.
If financial backing is secured, the health authority hopes to select a contractor by autumn next year and have construction under way by spring 2015.
Plans for the new hospital have already been approved in principle by Dumfries and Galloway Council.
A farmland site off the Garroch roundabout at the western end of the Dumfries by-pass has been earmarked for the development.
The proposed 350-bed complex would also include 104 staff residencies, a helipad and almost a thousand car parking spaces.
The new hospital would replace the existing Dumfries and Galloway Royal Infirmary on the Bankend Road.