New Dumfries hospital business case approved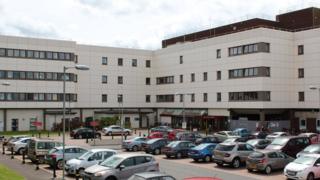 The Scottish government has approved an outline business case for a £200m project to construct a new general hospital in Dumfries.
The 350-bed facility would also include 104 staff residencies, a helipad and almost 1,000 parking spaces.
It would replace the existing Dumfries and Galloway Royal Infirmary on the Bankend Road built in the 1970s.
NHS Dumfries and Galloway chief executive Jeff Ace said he was "delighted" by the approval.
He said the business case set out proposals for a new hospital providing a "modern, patient-centred environment".
He added that it was "underpinned by more effective use" of services including cottage hospitals.
"At the heart of these proposals are redesigned, high quality services which will meet the future needs of patients and facilitate the delivery of care as close to home as possible," said Mr Ace.
A farmland site off the Garroch roundabout at the western end of the Dumfries by-pass has been earmarked for the development.
Julie White, chief operating officer with NHS Dumfries and Galloway, added: "This is an extremely important milestone in the development of a new hospital for this region.
"The approval by Scottish government enables us to proceed to the open market to commence our procurement process.
"We will now engage with external companies who will work with us to complete the detailed design, build the hospital and finance the construction."
'High quality'
It is hoped work can start on site in 2015 with the new hospital opening three years later.
Health Secretary Alex Neil said: "More sustainable, high quality and continually improving health services as close to home as possible is what the people of Scotland want, and that is something this government is determined to give them.
"Giving the go-ahead for development of this new hospital clearly sets out the strength of our commitment to the NHS in Scotland, and will mean that we can provide more sustainable, high quality and continually improving health care services in NHS Dumfries and Galloway and across the country.
"But it is important that care settings are suitable for our patients so they are treated in the best possible surroundings - that is why we are investing more than ever in the NHS Scotland estate."