Former Glenzier Primary coal mining proposal withdrawn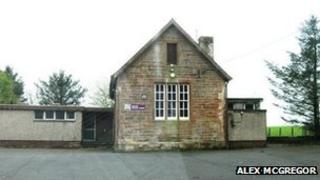 A bid by a mining company to carry out exploratory drilling in the grounds of a former school has been withdrawn before being considered by councillors.
Dumfries and Galloway Council was being recommended to agree to lease Glenzier Primary to Lochinvar Coal Limited.
The company is looking to exploit large coal seams stretching from Canonbie across the border into Cumbria.
The untapped reserves were identified in exploratory work by the National Coal Board between the 1950s and 1980s.
Initial test drilling by Lochinvar - a subsidiary of Australian firm, New Age Exploration - has revealed high quality coking coal which is used in the steel making process.
It has been estimated that up to 400 jobs could be created if mining operations eventually go ahead.
As part of its exploratory work, the company wants to drill up to three bore holes in the playground of the former Glenzier Primary School and is looking to secure a two-year lease on the site.
Dumfries and Galloway Council, which owns the complex, was being recommended to agree the deal at a rent of £10,000-a-year.
However, the item was withdrawn by council officers before it could be considered by the authority.