Dalbeattie man Stephen Maxwell's cash seized by court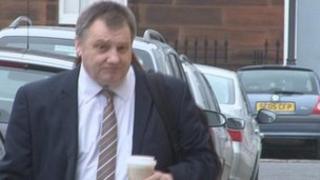 A man jailed for five years for failing to pay more than £600,000 in tax and National Insurance has had a little more than £5,500 seized by the courts.
Stephen Maxwell, 54, of Dalbeattie, was found guilty last year after a six-week trial in Kirkcudbright.
The confiscation order came from the proceeds of the sale of his property in Castle Douglas - after fees and payment to secured creditors were deducted.
The sum can be recalculated if Maxwell obtains further assets in future.
He was jailed in June 2012 for avoiding tax and National Insurance payments between 1999 and 2008.
Lindsey Miller, head of the Serious and Organised Crime Division (SOCD), said: "Stephen Maxwell operated a long-running fraudulent scheme, by which he ultimately cheated HMRC of £635,015.
"Today's order is for the full amount available to us at this time, and also has the effect of preserving the Crown's position, meaning that if Mr Maxwell obtains any cash or assets in the future the Crown can ask the court to recalculate the confiscation order."