Queen to reopen Sir Walter Scott's Abbotsford House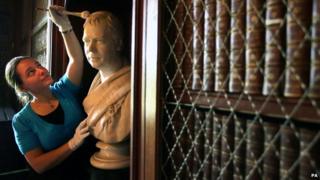 The Queen is to reopen the former home of Sir Walter Scott in the Scottish Borders after its multi-million pound restoration.
The royal visit will take place on 3 July, the day before Abbotsford House reopens to the public.
The Queen will be given a tour of the house, which has been closed for almost two years.
She will also view the attraction's new visitor centre, where she will unveil a plaque commemorating the occasion.
The Queen will also be introduced to guests at the opening reception, including trustees and employees of the Abbotsford Trust, its funding partners and a number of Sir Walter Scott's descendants from the UK and overseas.
She has previously been to the property on a number of occasions and the site, near Melrose, has hosted many other royal guests.
'Literary legacy'
These included, in 1867, a visit from Queen Victoria - who is said to have regarded Scott as her favourite poet.
Lord Sanderson, chairman of the Abbotsford Trust, said: "The Abbotsford Trust is delighted that Her Majesty the Queen accepted our invitation to officially reopen this historic property.
"Abbotsford is one of the most famous houses in the world, built by a man whose cultural and literary legacy cannot be underestimated.
"We believe that Abbotsford is set to become both an important cultural centre and tourist destination for the Scottish Borders, and are honoured that Her Majesty will be one of the first people to tour this rejuvenated attraction."
Abbotsford will open to the public at 09:00 on Thursday 4 July.