Glentress improvement views canvassed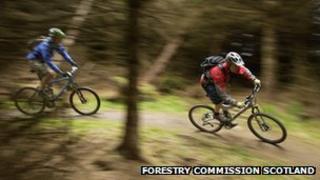 Walkers, mountain bikers and the community are being asked to give their views on how to improve facilities at a flagship forest development.
Two events are planned to be held at Glentress Forest this week.
Forestry Commission Scotland said the information gathered would be used to create a "masterplan" for the area.
Leona Wilkie, who is managing that process, said she hoped the events would give a picture of how the forest could develop "for years to come".
"We've had brilliant feedback to date on how people would like to see recreation in the Tweed Valley progress," she said.
"Now we want to focus purely on Glentress and what it could offer.
"Please come in and speak to us at the Glentress cafe and tell us what you would like to see happen."
The two drop-in events are on Friday from 17:00 to 20:30 and Saturday from 09:00 to 14:00.