Princess Victoria cook George Jamieson dies aged 88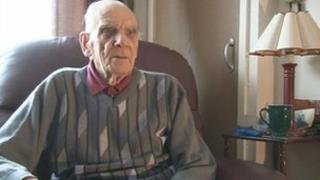 A former cook who escaped the Princess Victoria ferry disaster which claimed 133 lives thanks to a shift change has died at the age of 88.
George Jamieson's family said he passed away in Stranraer at the weekend.
Mr Jamieson escaped the ferry's last voyage because his son was ill and he swapped shifts with a colleague.
The man who replaced him was one of the 133 people who perished in the 1953 disaster.
For six decades, Mr Jamieson never spoke about what happened - even to his family.
But in January this year - to mark the 60th anniversary of the tragedy - he told his story for the very first time to BBC Scotland's Willie Johnston.
He had been scheduled to be on board the ill-fated ferry but a late change of shifts meant he was not on duty when it sank.