Portpatrick lifeboat called out to rescue its own crew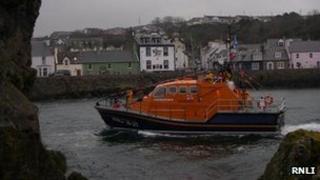 A south west Scotland lifeboat has had an unusual callout - to rescue three members of its own crew.
The Portpatrick boat was called out on Monday night after eight people got stuck on a pleasure boat which suffered mechanical failure on its way back from Northern Ireland.
Among those on board were lifeboat volunteers John and Kirstyn Connor and Ian Hoad, the boat's owner.
Everyone on the stranded boat was brought safely to dry land.
Mr Hoad's wife, Wilma, who was also onboard, said the gear box had failed about half way between Northern Ireland and Scotland.
The boat had been towed part of the way back home by another vessel before the lifeboat was called out to help complete the journey to Portpatrick.
"We were very reluctant, it was one of the last resorts," said Mrs Hoad.
"If we had had a set of oars onboard we would certainly have rowed back home rather than phoning out the lifeboat.
"They gave us a warm welcome, kindly took some photos of us and then towed us back home.
"The village was waiting for us with their cameras as well."