Conduct breach councillor Ron Smith suspended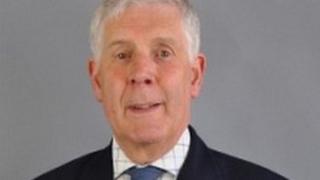 A Borders councillor who breached his authority's code of conduct has been suspended from attending planning committees for three months.
A hearing of the Standards Commission for Scotland found Ron Smith failed to declare a non-financial interest in relation to a planning application.
It described his actions as a "lack of judgement".
Mr Smith said he regretted the outcome and would be standing down as the chairman of the planning committee.
The complaint was made after Mr Smith spoke against an application for a snack bar in Hawick.
He is an office bearer at Teviot Church, which objected to the proposal.
A hearing on Wednesday ruled he had breached the code of conduct.
It suspended his entitlement to attend planning committees or represent the council on planning matters for three months with effect from 11 July.
"The requirement on councillors to declare interests is intended to produce transparency in regard to interests which might influence, or be thought to influence, their actions as a councillor," it concluded.
"The failure was a lack of judgement on the part of Councillor Smith whilst performing an important role as chair of a quasi-judicial council committee."
Mr Smith said he believed the decision was a result of "differing interpretations" of the code of conduct.
"At all times, I have sought to represent the best interests of my constituents and of Borderers," he said.
"Reflecting on the commission's decision, however, I have decided to step down as chair of the planning and building standards committee and as executive member for planning and environment."
Council leader David Parker said Mr Smith was a "hard working councillor" who worked "tirelessly" for his constituents.
"I accept but am naturally disappointed with the Standards Commission decision," he said.
"I believe this stemmed from a genuine difference in interpreting the councillors' code of conduct.
"I fully respect Ron's decision and look forward to continuing to work with him on the council and to his playing a significant part in council business in the future.
"I and other elected members across the political spectrum have a very high regard for the work that Ron does."