Dumfries restaurant colour change ordered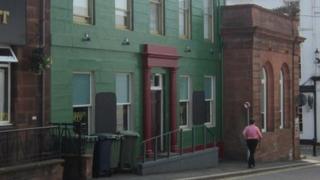 The owner of a Dumfries restaurant says he will seek legal advice after being told to remove green and red paintwork from his premises.
Councillors refused a bid to retain the colour scheme on the listed sandstone building on Irish Street which forms part of the Mississippi Grill House.
Officials advised that the paintwork breached conservation rules.
Craig Denman, a partner in the business, said removing the paint would cost thousands of pounds.
Dumfries and Galloway Council's planning committee refused a bid by the restaurant to keep the colour scheme.
Officers claimed the paint was impermeable and could cause long-term damage to the stonework.
However, they admitted the characteristics of the gloss could not be fully determined without taking costly samples.
Mr Denman insisted the paint was suitable and said the costs of removing it could put the restaurant out of business.