Two airlifted after motorway bridge crash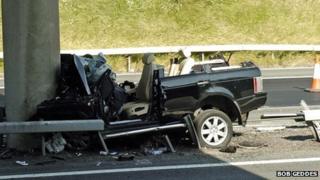 Two people were airlifted to hospital after a Range Rover hit a concrete bridge support in the centre of the A74(M) motorway on Saturday afternoon.
A third person was taken to hospital by road after the crash which happened at 13:15, near Jct 16 at Johnstonebridge, north of Lockerbie.
It is believed one woman is in a critical condition and two others, a man and woman, are serious but stable.
The stretch of motorway was closed until about 22:30.
A police spokeswoman said officers were appealing for witnesses to the crash, which involved a black Range Rover, to come forward.
Police have not confirmed details but it is thought that a man and two women were cut free from the wreckage by firefighters, who worked for 90 minutes at the crash scene.
The motorway was closed both ways for two hours, after the crash on the northbound carriageway, and thousands of vehicles were queued back up to six miles.
Police set up diversions and later opened one lane on each side of the motorway to let traffic off before closing the northbound lane again for a major accident investigation.
Hundreds of motorists were stuck in huge traffic jams as temperatures again reached 25C.