Rowan Rychel recognised by Royal Humane Society for 999 call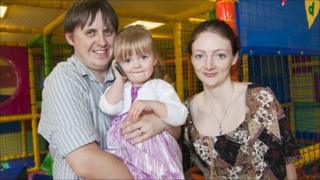 A young Borders girl who dialled 999 when her mother fell ill is to be honoured by the Royal Humane Society.
Rowan Rychel had just turned two when her mother collapsed in their Innerleithen home in September 2011.
She called emergency services and they were able to take Francesca Rychel to hospital for treatment, after which she made a full recovery.
RHS secretary Dick Wilkinson said Rowan was "almost certainly" the youngest person ever to receive the award.
"What she did was quite remarkable for someone so young," he said.
The incident happened on 16 September 2011.
Mrs Rychel fainted and struck her head on a wooden cabinet.
When Rowan could not wake her, she called 999 and told emergency services her mother was sleeping and would not wake up.
Mr Wilkinson said: "She is a truly remarkable girl who kept calm in what must have been the most terrifying day of her young life.
"Somehow she made the vital call that ensured her mother received medical attention."
He said her family must be immensely proud of her.
"They had clearly taught her well what to do in an emergency," he said.
"She richly deserves this award."
Previous honour
Thanks to Rowan's call police officers forced entry to the property and her mother was taken to hospital for treatment to a minor head injury and a dislocated knee.
Rowan collected a meritorious award from Lothian and Borders Police earlier this year.
The Scottish force, which is now part of Police Scotland, nominated her for the latest honour.
No date has yet been fixed for presentation of the RHS commendation, but it is expected to take place in the near future.
The RHS is the premier national body for honouring bravery in the saving of human life.
It was founded in 1774 by two of the day's eminent medical men, William Hawes and Thomas Cogan.
Their primary motive was to promote techniques of resuscitation.
It now gives out a variety of awards depending on the actions involved.