New Lauder health centre nears completion in Borders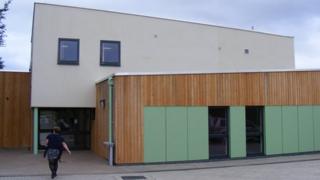 Patients who go to see their GP in Lauder will soon be using the town's £1.8m health centre.
The keys to the brand new, purpose built facility have been handed over and furniture and equipment will be installed.
The building is scheduled to open on Monday 19 August.
The new centre in Crofts Road will offer, according to local GP Dr Paul Cormie, much improved facilities for staff and patients.
"At the moment we're operating out of a bungalow which was formerly a district nurse's house. It's very small and cramped and we've not been able to have all of the primary healthcare team under one roof.
"We've got a much bigger waiting area in the new building so patient comfort will be better. And we'll be able to offer some additional services which we've struggled to accommodate at the moment."
Play area
The Crofts Road site did cause controversy when it was first suggested by NHS Borders.
It was owned by Lauder Common Good Fund and, where the new health centre now stands, there was a children's play area.
Some locals organised a campaign against using the site. But a local vote saw overwhelming support in favour of the health centre being built there.
Lauder youngsters have not lost out, however. A much-improved range of play equipment has been provided in the local public park and the local football team has a new changing pavilion.