Borders to Edinburgh rail route plans revised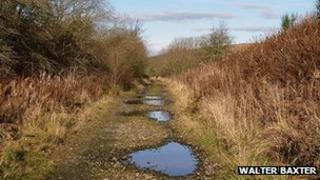 Network Rail has submitted new plans for the route of the Borders to Edinburgh railway and a section of the A7 which will cross over it.
Under the proposals a double roundabout layout would not be built at Falahill, north of Heriot.
Safety concerns had been raised about the design of the scheme.
Construction challenges have meant a reconsideration in the proposed alignment of both road and railway, and their proximity to houses.
Borders Railway project director Hugh Wark said the arrangements had changed several times since the project gained parliamentary approval.
"During our review of the project and working with Scottish Borders Council we have identified a better scheme," he said.
"It avoids some of the ground condition problems in the area."
He said he believed it was the best design possible for the area.
"In actual fact there is no easy solution at Falahill that satisfies everyone," he said.
"The new scheme that we have produced now certainly avoids the double roundabouts, it avoids some additional street lighting in a very rural area and it avoids vehicles accelerating and decelerating close to the houses.
"So we have tried to deal with some of the concerns of the residents at Falahill and we will be doing our very best to mitigate the effects of having the railway and road in close proximity to the properties in that area."
Network Rail has estimated that about 500 jobs will be created between now and the 2015 deadline for reopening the line.
The railway will re-establish a passenger rail link between Edinburgh and the Scottish Borders for the first time in more than 40 years.