Cows trample dog-walking pensioner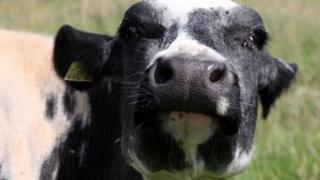 An elderly man has been seriously injured after being trampled by cows while walking his dog in the Borders, it has emerged.
The pensioner is being treated in Borders General Hospital near Melrose following the incident.
It happened on farmland near historic Marchmont House near Greenlaw in Berwickshire on Sunday afternoon.
The man had been walking among the cows and calves when he suddenly came under attack.
The caretaker at Marchmont managed to drive his Land Rover into the field and scatter the livestock before getting the pensioner into the vehicle and out of the field.
At the same time the dog was running about trying to escape from the cows.
'Unfortunate accident'
A spokesman for Police Scotland said that the man, understood to be from Duns in Berwickshire, was still receiving treatment for his injuries at Borders General Hospital on Thursday.
National Farmers Union Scotland regional manager Nina Clancy said: "This is an unfortunate accident and all within the farming community wish this walker a speedy recovery.
"Unfortunately this is not the first incident of this kind.
"Cows can be placid but cows protecting young calves are much less tolerant of anything in their field they might perceive as a threat.
"Dogs, no matter how well behaved, are a particular target in this respect."