Dumfries DG One centre: Temporary pool plan to cover closure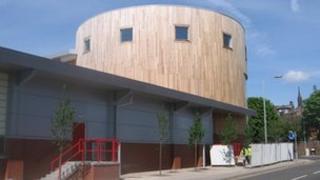 Moves have been agreed to provide cover during the closure of a £17m leisure centre for repairs - including the erection of a temporary swimming pool.
DG One in Dumfries will shut completely next year for four months, with its pool closed for 13 months after that.
A temporary pool will now be sited in the car park at the town's Ice Bowl.
Dumfries and Galloway Council has also agreed to reopen the Loreburn Hall at a cost of £500,000 to provide fitness suite facilities during the closure.
The local authority is taking court proceedings to recover the costs of repairing the centre, which opened five years ago.
It emerged earlier this year that the facility would have to shut for a prolonged period in order for remedial works to take place.
It had been proposed the closure would take place in January but that has now been moved to June next year.
Council leader Ivor Hyslop said: "By providing alternative swimming and fitness arrangements in Dumfries, we are guaranteeing continued access to leisure facilities for our local communities.
"The people of Dumfries have a great sense of pride with regards to the Loreburn Hall.
"Our decision to inject half a million pounds of investment to bring the hall back to life will seek to deal with part of the problem which arises from the closure of DG One.
"It is a positive solution in a difficult situation."
Opposition Labour group councillor Colin Smyth said he was pleased to see a decision which "paved the way forward" for opening the Loreburn Hall.
"It has been a long battle but this is a real victory for the community of Dumfries who have made clear that they wanted to see the hall back in use for the good of the town," he said.
"I believe there are a number of groups who would use the hall."