TweedLove Borders bike festival hails Enduro boost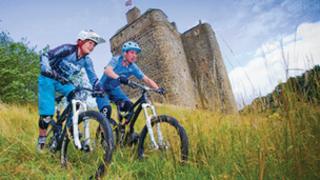 A Borders bike festival is to host a round of the Enduro World Series as part of a programme it hopes will generate £1.2m for the local economy.
The two-week TweedLove event stages its fifth edition in May next year.
As well as the Scottish Borders, the Enduro series is also visiting Canada, the USA, Chile, France and Italy.
The competition brings together cross-country and downhill mountain biking to "push both the physical and technical abilities of competitors to the limit".
TweedLove director Neil Dalgleish said the organisers were delighted to bring the series to the UK for the first time.
"I doubt you could devise a more effective way of putting Scotland and the Tweed Valley on the international 'must visit' list for mountain biking," he said.
"This puts us up there with the likes of Whistler in Canada, and among the top places for trails in Europe.
"It's the perfect stamp of approval of how good the riding is here."