Dumfries whisky raid yard theft attempt fails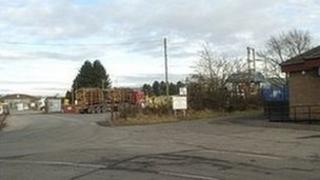 Thieves have failed in a bid to take a "high value" load from a Dumfries yard where whisky worth £250,000 was stolen more than three years ago.
The attempt to take a trailer took place at the Currie European yard in the early hours of Sunday.
A large whisky haul was taken from the same site in February 2010 while another would-be theft failed in December last year.
Police have asked any witnesses to the latest incident to contact them.
At about 03:20 on Sunday a white Scania lorry - stolen from the Shropshire area early in the week - entered the south of Scotland site.
Three trailers in the yard were later found to have had their side curtains cut, in an attempt to check on the contents.
However, it appears nothing was taken and the Scania tractor unit was found in the yard, with a puncture.
Police are also investigating another trailer theft over the weekend which may have been linked to this incident.
An articulated trailer was stolen from the premises of JD Engineering at Dargavel and was later found abandoned at the Laumar site on the Heathhall Industrial Estate where a break-in to the premises was also reported.