Tour of Britain: How cycling found its Scottish home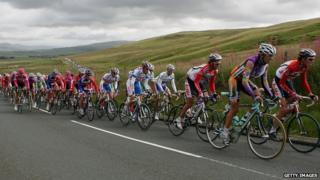 I might be wrong but it seems there are a lot more people out on their bikes these days.
When I bought my first racer - more than a quarter of a century ago - it felt like I was the only person daft enough to cycle in southern Scotland.
I blamed it on my Italian ancestry and obsession with the sport and its larger-than-life personalities.
Nowadays, however, there are times when I feel I can hardly move for fellow lycra lovers.
Where, I wonder, did they all come from? And why?
No doubt, the successes of some of the big names of British cycling have made a difference.
We can all imagine we are Sir Chris, Wiggo or Cav as we pedal out our tempo on an after-work or weekend ride.
The only things to shatter that dream are the cold, hard time figures on your cycle computer or the soul-destroying "whoosh" of some ultra-fit septuagenarian sweeping past you with calves of steel.
Tell me that isn't just me.
But there is another element which has got the wheels turning again across Dumfries and Galloway and the Scottish Borders.
In recent years those sometimes seemingly distant heroes of the Tour de France, Giro d'Italia or Vuelta a Espana have been visiting our roads on a regular basis.
Suddenly, you can watch the route you might try out on a Sunday afternoon being tackled full pelt by the peloton.
It is an inspirational vision, although it also delivers a stark reality check about your own abilities in the saddle.
Since the Tour of Britain returned in its current form, it has rarely missed a visit to southern Scotland.
The quality of the cast and profile of the event has also risen steadily.
The first relaunch edition of the race came in 2004 and it left Scotland out of the map entirely.
However, 12 months later it ventured north of the border with an opening stage from Glasgow to Castle Douglas and has never looked back.
In 2006, it opened along the same route when a young rider named Mark Cavendish had to settle for seventh place in a sprint finish.
In the next edition, the Manx Missile would win the points competition as the race finished with a stage from Dumfries to Glasgow.
Frenchman Romain Feillu won the tour by the most miniscule of margins - 0.49 seconds after seven days of racing.
It was back to a south of Scotland finish in 2008 with a stage from Glasgow Green to Drumlanrig Castle won by current Team Sky rider Edvald Boasson Hagen.
Since then, the Scottish leg of the race has become an exclusively Dumfries and Galloway and Scottish Borders affair.
In 2009 a stage ran from Peebles to Gretna.
Then, after missing a year, it was Peebles to Dumfries and then Jedburgh to Dumfries.
The Whitesands finish clearly played to the strengths of Cavendish as he has won there on two occasions.
This year the route returns to Peebles with the backdrop of Drumlanrig Castle for its finish.
Cavendish, Bradley Wiggins and new Colombian climbing sensation Nairo Quintana are all signed up to participate.
This is cycling's elite taking to the roads of Britain for a gripping week-long challenge.
And, when they cross the border, they are getting to be at home on roads I used to cycle - at a much more sedate pace - in my youth.