Galashiels B&Q stone chip thieves pursued by police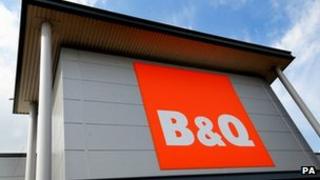 Police are appealing for witnesses over three break-ins at a B&Q store - two of which resulted in the theft of bags of decorative stone chips.
All the incidents happened at the site at Wilderhaugh in Galashiels.
The shop was entered overnight between Saturday 31 August and Sunday 1 September and six bags of chips stolen.
A second break-in late on Tuesday saw nothing taken but 10 bags of decorative chips were removed in a third incident early on Thursday morning.
Gardening work
Police believe the crimes are linked and are asking anyone who can assist with their inquiries to come forward.
Pc Philip Moule said: "This is an extremely unusual series of break-ins that has resulted only in decorative stone chips being taken, while other, more expensive items, have been left untouched.
"Anyone who remembers seeing any suspicious activity in or around the B&Q store over the past couple of weeks is asked to contact police immediately.
"We are also keen to hear from anyone who is having gardening work carried out on their property, or knows of someone who is and believes stone chips such as these are being used."