Flying Scots join the Red Arrows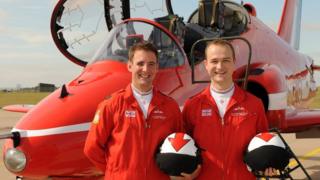 Two Scots pilots, from the Borders and the Highlands, are to join the Lincolnshire-based Royal Air Force Aerobatic Team, the Red Arrows.
Flt Lt Stewart Campbell and Flt Lt Joe Hourston will be display pilots.
The two men - who have both previously flown operations with the RAF in Afghanistan - will stay with the Red Arrows for three years from 2014.
They will begin training in October before joining the aerobatic team's nine-aircraft formation next year.
The appointments come after a selection process that involved flight tests, interviews and other exercises.
They are joining in a milestone year, with 2014 being the Red Arrows' 50th display season.
Flt Lt Campbell, 33, who grew up in Peebles, joined the RAF in 2003.
Before the Red Arrows, he was posted to 617 Squadron (The Dambusters) and flew two operational tours in Afghanistan in Tornado aircraft.
He said: "The Red Arrows represent the pinnacle of fast jet flying and I'm honoured to be joining this famous team.
"The way the team operates and how it represents the air force and UK as a whole, is something I very much wanted to be part of.
"Although the selection hasn't sunk in yet, I don't think I will feel like I'm now a member of the Red Arrows until I taxi out with team leader and go through the first loops and rolls."
Flt Lt Hourston was born in Inverness, and grew up in the Black Isle village of Cromarty, before studying at Glasgow University.
He started his Initial Officer Training with the RAF in 2001.
The 34-year-old is also a former Tornado GR4 pilot with 617 Squadron at RAF Lossiemouth and served in Afghanistan and on exercise in North America.
'Inspire people'
He said: "I'm very proud to be joining the Red Arrows and the 50th display season in 2014 makes this a particularly special time to arrive.
"Since day one of deciding to be a pilot I've always wanted to be a member of the team because of what it represents and the variety and challenge of the flying itself.
"It's wonderful to be part of this team and, in turn, help inspire people to consider a career in the armed forces and also promote UK plc."
On completion of a three-year tour with the Red Arrows, the pilots either return to the frontline, instructional or staff duties.
Based at RAF Scampton in Lincolnshire, the Red Arrows have performed more than 4,500 displays in 54 different countries since they were formed in the mid-1960s.