Dumfries and Edinburgh cow 'pedometer' study wins Ig Nobel prize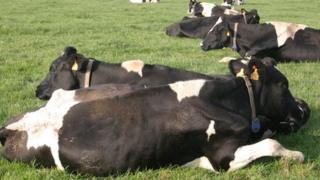 A paper analysing whether the length of time a cow stands up affects the likelihood of it lying down has won an international science award.
The research was carried out at Scotland's Rural College (SRUC) farms in Dumfries and Edinburgh.
It won an Ig Nobel award - a light-hearted version of the Nobel prizes.
Livestock researcher Dr Bert Tolkamp said he hoped the honour would give more opportunities to explain their work and why it was worthwhile.
Now in their 23rd year, the Ig Nobel prizes are intended to "celebrate the unusual, honour the imaginative and spur people's interest in science, medicine, and technology".
Prizes are awarded for research that "first makes people laugh, and then makes them think".
SRUC livestock researchers Dr Tolkamp, Marie Haskell, Fritha Langford, Colin Morgan and David Roberts won the Ig Nobel Probability prize for their paper "Are cows more likely to lie down the longer they stand?".
The research involved the cows wearing pedometer-like sensors on their legs that recorded their movements.
Its aim was to develop a way to understand how their behaviour might reflect their state of health, helping farmers improve how they care for their herds.
By tracking beef and dairy cows' activity, the researchers sought to analyse patterns in the time they spent lying and standing, with the theory that changes to these patterns could indicate a cow was ill or unhappy.
The team expected to find that, as the cows became increasingly tired due to standing, they would become more likely to lie down.
Problem detection
In fact, they found cows that had been standing for six hours were as likely to lie down within the following 15 minutes as cows that had been standing for one hour.
In addition, some cows spent much more time standing than others.
While the reasons for these variations were not clear, the project identified a scientific methodology for understanding patterns of activity.
This is now being used by SRUC and others to assess how the way cows are cared for impacts on their health.
Dr Tolkamp said: "As farms get bigger, there is less and less direct contact between farm workers and animals, which might mean later detection of problems.
"By shedding light on cow behaviour as an indicator of potential problems, our research is providing new opportunities to protect and improve cattle health and welfare."
Dr Tolkamp travelled to America to receive the award on Thursday while Dr Roberts will attend the European Ig Nobel Night on Saturday in the Netherlands.