Jason Smith inquest: Officer describes Hawick soldier death in Iraq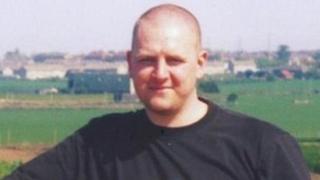 An army officer has told an inquest how a Territorial Army soldier under his command in Iraq died of heatstroke.
Pte Jason Smith, 32, from Hawick, had repeatedly told medical staff he was feeling unwell due to high temperatures - sometimes over 50C (122F) - after being deployed to Iraq in June 2003.
He reported sick two months later.
On 13 August he was found face down at a stadium where he was stationed and was taken to hospital but he had suffered a cardiac arrest and died.
As a second inquest into his death opened at Oxford Coroner's Court following a first inquiry in 2006, Pte Smith's commanding officer said the environment his men were fighting in was "the hardest I have experienced in my military career".
Lt Col Stuart Cattermull, who was a major at the time, broke down as he said: "In context it was extremely hot, we were extremely busy, too busy, and we didn't have enough resources - be that manpower, be that equipment - to do what we were asked to do.
"We had asked for more manpower but we had a mission to do and we were going to do it the best we knew with the resources available.
"My best resource available, as ever, were my soldiers, who never let me down."
He said Pte Smith's death came in the context of a "relentless tempo of operations, stretched manpower and extreme heat".
The inquest heard that one officer had referred to the stadium, some 12km away from Camp Abu Naji in Al Amarah, as "an unbearable, hot, dusty, hell hole".
Lt Col Cattermull explained that the men were forced to drink water mixed with sugar and salt in front of officers to halt dehydration after numerous heat injuries.
They were also able to access air-conditioned units at Camp Abu Naji, but their accommodation in the stadium was not acclimatised.
The inquest heard that equipment to air condition the stadium arrived two days after Pte Smith died.
The officer said that "in retrospect" the fact that one medic was taking care of 100 men was "insufficient", but claimed this had only become apparent after other operations in Afghanistan and Sierra Leone.
He added: "It was hard, very hard indeed.
"Things were not right - no operation is going to be fully resourced or fully equipped but we were as good as we were going to be with what we had."
At the original 2006 inquest, assistant deputy coroner for Oxfordshire Andrew Walker recorded that Pte Smith's death was caused "by a serious failure to recognise and take appropriate steps to address the difficulty that he had in adjusting to the climate".
'Long and painful'
The second inquest was ordered by the Supreme Court in 2010 after Pte Smith's mother Catherine successfully applied for a new public hearing that complies with the European Convention on Human Rights.
Assistant Coroner for Oxfordshire Alison Thompson told Mrs Smith: "It will be tough for you to be here once again at a court of law having to hear this again."
Mrs Smith said before the new inquest began that her son knew he could die on active service and that she accepted this.
"But I found out at the original inquest that simple steps which could have been taken, like providing air conditioning units which were available 12km away, weren't taken and this put his life at risk unnecessarily," she said.
"Every day the soldiers were asking for air conditioning but they were ignored."
She said reaching the second inquest had been "long and painful", but added: "My dearest wish is that the inquest will finally give me the truth and bring a glimmer of hope for other families in a similar position."