Borders to Edinburgh rail route interchange preparations begin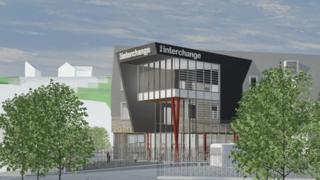 Preparations have begun to clear the way for a purpose-built transport interchange in Galashiels associated with the Borders to Edinburgh railway.
It aims to "link up sustainable modes of transport" with the rail route when it reopens in 2015.
The first phase of works will see the realignment of the town's Stirling Street to create a space for the new building.
It will also see the creation of a new civic space and car park.
Construction work will begin on 14 October and is likely to continue until the new interchange comes into operation in 2015.
Car parks in the area have now been closed in order to let preparatory works begin.
Construction of the building itself will start in early 2014 once the infrastructure improvements are complete.
Minimise impact
Scottish Borders Council's executive member for roads and infrastructure, Gordon Edgar, said it would ultimately be a major boost for the area.
"We appreciate there is going to be some impact to existing arrangements to allow this work to get under way, but this is a huge project which will bring some significant benefits for local businesses and for people travelling into and out of the Borders," he said.
"All of the work this year is being carried out by SBc Contracts, the council's in-house contractor, to ensure traffic management requirements are fully co-ordinated so that disruption is kept to a minimum.
"This single point of control will also benefit co-ordination with the Borders railway project."