Nith 'raiders' revive river's history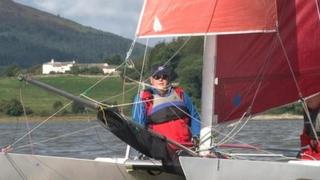 A boat race is hoping to evoke the busy trading past of the River Nith in Dumfries.
A total of 15 boats have entered the Nithraid event on Saturday.
It aims to recreate the days when Dumfries and the neighbouring villages of Kingholm Quay, Glencaple and Carsethorn were collectively the fifth wealthiest port in the UK.
The yacht race starts in Carsethorn before heading up the Nith into the heart of Dumfries.
Roy Kerr of the Ports of Dumfries Development Group said the event would recreate some of the activity from the town's time as a trade centre many years ago.
"In its heyday, you had grain and livestock and ironmongery because there was a lot of forges and ironworks in Dumfries," he said.
"They carried ironworks down the African coast and across to America and then brought back tobacco, which was the main thing.
"Basically the prosperity of Dumfries was built on these things - trade out the way and tobacco and commerce from America coming back in."
However, recreating their journey will cause more problems for some vessels than others.
Catamaran sailor Chris Nurney will encounter three bridges during Saturday's event, which leaves from Carsethorn and will end at the Caul at the Whitesands in Dumfries.
He plans a brave approach to the obstacles as he is unable to drop his mast as other boats will do.
"What I am going to do, because it is a nice big wide boat, I am actually going to capsize it and float it underneath the bridges and then re-right it for the finish," he said.
'Wonderful sight'
The event's creator, Mark Zygadlo, said the race should provide a great spectacle.
"The emphasis of the event really is that the river was the main trading artery for the town", he added.
"So the race will be bringing life back up the river.
"The prospect of having the middle of Dumfries full of sailing boats - that is going to be a wonderful sight I think."
Competitors should make it to the Whitesands for between 12:45 and 14:00 on Saturday.
They will be greeted by a sculpture of a cow, cast in salt, in the middle of the swollen river.
It is meant to symbolise both "the past trade in meat, hides and livestock, and the point in the river where the fresh water gives way to salt tides".
It will be taken to its position in a procession leaving the Stove building in Dumfries town centre at 11:30 and be positioned on a pontoon in the river at 12:45.