Dumfries and Galloway Council talks follow resignations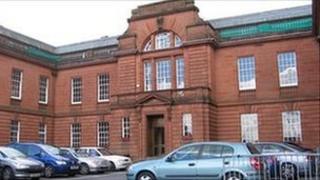 Negotiations are set to start on the future ruling coalition of Dumfries and Galloway Council after seven members of its Conservative group resigned.
Leader Ivor Hyslop said a Tory-SNP alliance could continue to run the authority despite no longer having an outright majority.
However, opposition Labour group leader Ronnie Nicholson insisted a change was needed in the administration.
Brian Collins, who heads the SNP group, said it was keeping all options open.
Seven members of the 15-strong Conservative group resigned from their political group last week due to a "loss of confidence" in Mr Hyslop.
It reduced the ruling coalition from 25 members of the 47-councillor authority to 18.
Mr Hyslop said that did not automatically mean the end of the alliance with the SNP at the helm of the south west Scotland council.
"Well, if that happens it happens but currently I have no indication that that is what they are looking to do," he said.
"They have said that they wouldn't do that.
"They are looking to carry on with the good work that we have actually been doing over the last 14 or 15 months."
Mr Collins did not dismiss the idea of the partnership with the Conservatives continuing but was not ruling out a shake-up in council control.
"I don't discount anything at all at this point in time - everything is in the pot," he said.
"We will look at the various options as we go forward in the next few days.
"Our minds will be very concentrated in that regard."
'Fresh start'
However, Mr Nicholson said it was time for a new administration to take over.
"Last May, Labour were elected as the largest group on the council - we received more votes than any other party," he said.
"We did put forward a proposal for a progressive coalition to the SNP and some of the independent group at the time and those proposals remain."
He said the SNP had chosen to form a ruling group with the Conservatives which was now "crumbling".
"The SNP now need to decide whether they wish to prop up a failing Tory group or are they listening to the people of Dumfries and Galloway and giving the region a fresh start," he added.