Jason Smith inquest: Coroner finds 'missed opportunity'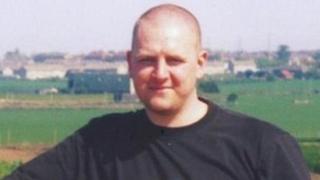 A coroner has said there was a "missed opportunity" for army chiefs to step in as temperatures rose to over 50C (122F) before a soldier died of heatstroke.
Pte Jason Smith, 32, from Hawick, had repeatedly told medical staff he was feeling unwell due to the heat, after being deployed in June 2003.
He collapsed and later died in August that year.
A second inquest into his death was told the disused stadium where he was stationed was a "dusty hell-hole".
The fresh hearing at Oxford Coroner's Court was ordered by the Supreme Court.
It heard how a number of soldiers reported feeling unwell because of the conditions.
Assistant coroner for Oxfordshire, Alison Thompson, recording her findings at the end of the five-day hearing, said: "When climatic conditions deteriorated in August and the number of heat casualties increased, there was a missed opportunity to intervene."
'Tipping point'
Those in charge of the soldiers could have "become more rigorous in monitoring individuals" when temperatures soared, making sure they were treated for their symptoms and had enough rest, she added.
In her narrative conclusion, she described the circumstances as: "Death on active service overseas, involving a high tempo of operations in extreme temperatures, the risk of which would have been reduced by adherence to the then policy on heat illness, in terms of climatic monitoring, hydration, medical treatment and casualty reporting, and by the availability of air-conditioned accommodation and vehicles."
However, she added that it was not possible to prove that those factors "specifically caused, or there was a direct causal link, between them and Pte Smith's sad death".
Ms Thompson found that advice and information on hydration given to the soldiers serving in such arduous conditions was "inconsistent" and "inadequate", but noted it had been stressed to them that drinking enough water was of utmost importance.
She also said that medics had not been given forms to record reports of heat illness, and that not all medical consultations were recorded.
The day before he died, Pte Smith reported to the army medic with heat exhaustion and was advised to rest.
'Intense heat'
That evening, he was deployed to a power station where he spent six hours in air-conditioned premises.
The coroner said: "The following day, he deployed twice to a petrol station but, before he was stood down at about 3pm, had spent some time in intense heat inside a Saxon vehicle in full sun."
She added that the time inside the vehicle was most likely the "tipping point" that led to Pte Smith's deterioration.
The inquest had also been told Pte Smith had been deemed fit for his role in Iraq and that the fact he had a relatively high body mass index of 34 would not have played a role in his death.
He had also acclimatised to conditions in Iraq by spending 10 days in Kuwait ahead of deployment, and his body had "adapted reasonably well", Ms Thompson said.
Pte Smith was described by Army colleagues as a "grafter" who never shirked his duties.
Ms Thompson told his mother: "It is important to realise what an important job he was doing, in these near-to-impossible conditions."
She also noted that heat illness was now dealt with in a different way by the army, adding that it was a "changed world in terms of soldiering in heat in the last 10 years".
At the original inquest in 2006, assistant deputy coroner for Oxfordshire Andrew Walker recorded that Pte Smith's death was caused "by a serious failure to recognise and take appropriate steps to address the difficulty that he had in adjusting to the climate".
'Fight for information'
Reacting to the latest verdict, Pte Smith's mother, Catherine, said: "It has been a long 10-year fight for information.
"I am glad that the coroner has recognised that there was a missed opportunity to intervene when heat casualties in Al Amarah increased in August 2003 and that the risks contributing to Jason's death could have been reduced."
A Ministry of Defence spokesperson said: "Our thoughts remain with Pte Jason Smith's family at this difficult time.
"This was a tragic incident and a number of changes have been implemented in the 10 years since Pte Smith's death in order to reduce the risk of heat-related injury.
"All personnel are now given extensive briefing about how to identify and treat heat injury, both before deployment and during specific acclimatisation training on arrival in Afghanistan."