Scottish fire board closure move comes under fire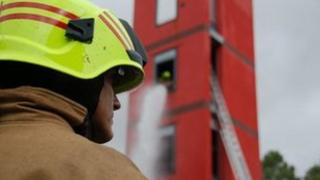 Dumfries and Galloway Council has raised concerns about plans which could see the closure of a fire control room in the region.
Dumfries is one of five centres which could shut under moves being considered by the Scottish Fire and Rescue Board.
The local authority said it was concerned the plans would see no services south of the central belt.
It has also voiced disappointment at the handling of the announcement of the proposed changes.
The SFRB is currently considering moves from eight centres to just three.
It has been told that failing to pursue a programme of property rationalisation and investment could involve continuing costs of £4.7m per year, equivalent to 162 firefighter posts.
Dumfries and Galloway Council is writing to the board to raise its concerns about the potential loss of the service in Dumfries.
It will also ask to be given advanced notice of any further proposed changes in time to have the chance to debate any which would have an impact on the region.