Dumfries woman Jean Hanlon's family joins overseas death protest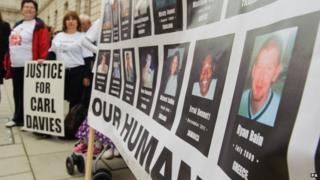 Relatives of a Scottish woman found dead in Crete more than four years ago have joined a protest in London.
It was seeking greater support for the families of people who lose their lives overseas.
The family of Jean Hanlon, who was from Dumfries, is convinced she was murdered but has been frustrated by the lack of progress in investigations.
Her son Michael Porter joined other families in the protest outside the Foreign and Commonwealth Office.
He said they were highlighting the fact that the issue affected a large number of people.
"It happens to so many people all over the UK and it is happening in so many other different countries," he said.
"No matter where someone dies or is killed, murdered or happens to pass away in a country there should be help."
He said that the people involved deserved to be assisted "legally, financially and mentally" from the UK.
Erin Bain, 28, from Hamilton, was there to highlight the lack of support following the death of her brother, Ryan, in Greece in July 2009.
She said: "The Greek authorities just expect us to accept that a fit, healthy young man, a strong swimmer, with no past medical history apart from losing an eye, drowned in a hotel swimming pool.
"We want to know what happened - was there a lifeguard there and if not, why? Were there witnesses?
"It won't change what happened but we need some sort of closure."
An FCO statement said it would meet with any families concerned about the death of a loved one overseas.
"This is an incredibly difficult time for any family and the FCO has teams of trained professionals in the UK and across the world ready to offer support," it added.
It said that more than 6,000 British nationals died overseas every year and their families were offered support in conjunction with a range of agencies.
"We also provide direct funding for many of our partners, including Victim Support Scotland, Missing Abroad and the travel care organisations and chaplaincies at UK airports, to enable them to provide additional specialist support where we cannot," it said.
"We regularly review our policy and our training for staff, seeking feedback from specialist non-governmental organisations and support groups as well as from families themselves.
"However, investigation of the death of any British national is a matter for the judicial process of the country they died in, and we must respect their systems just as we expect them to respect the UK's laws and legal processes."