Loch Ken signal crayfish pose threat to feeding cattle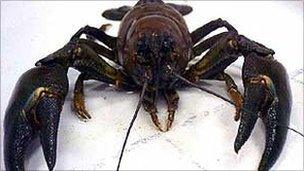 A meeting is set to highlight the impact on a Scots loch of non-native crayfish which are now causing problems feeding cattle on nearby farms.
North American signal crayfish are said to have "almost completely destroyed" the biodiversity of Loch Ken in Dumfries and Galloway.
There is evidence they are getting into crops being gathered for silage.
Regulations prohibit the transport of the crayfish which means farmers are unable to use it to feed their cattle.
The problem at Loch Ken has existed for a number of years.
Millions of the crayfish have infested the once-thriving angling waters.
There have been calls for a five-year cull to help control their spread.
New Galloway community councillor John Thom estimated the situation was already costing more than £1m-a-year to the local economy.
Mr Thom said local landowners had been invited to the meeting because of the effect it was starting to have beyond the waters of the loch.
"It is now also affecting the farmers because they are picking them up in the silage bales," he said.
"According to the rules and regulations that means they can't move their silage bales to feed their beasts over the winter because they would be illegally transporting the American signal crayfish."