Phytophthora ramorum: Funds to fight larch tree killer disease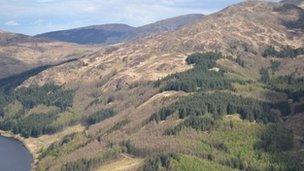 Funding of £1m is being provided to help fight the spread of a disease which is killing larch trees in south west Scotland.
The Scottish government support will assist efforts to tackle Phytophthora ramorum which is having a particularly devastating effect in Galloway.
Environment Minister Paul Wheelhouse said he had seen the "dramatic impact" of the disease earlier this year.
He said the funding could "ease the financial burden" of tackling it.
Phytophthora ramorum was first found in Dumfries and Galloway in 2011 but is now widespread in the region.
Most of the larch trees in Galloway will need to be felled over the next two or three years to try to tackle the problem.
Mr Wheelhouse said: "I saw the devastation the disease is causing when I visited Galloway in August.
"Forestry Commission Scotland is working with other land owners - and with the timber and processing sectors - to meet this challenge head on and manage the collective response to this disease.
"This additional funding from the Scottish government will help ease the financial burden of dealing with infected areas of larch to minimise the spread of the disease.
"Work is also under way to make best use of the affected timber."
Related Internet Links
The BBC is not responsible for the content of external sites.