Dumfries hospital: who wants to take on the £200m scheme?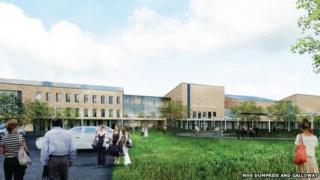 It is one of the biggest construction projects in the south west of Scotland in recent times.
Dumfries and Galloway Royal Infirmary, which opened in the 1970s, is no longer deemed suitable for its role as the region's general hospital.
So, plans have been drawn up for a 350-bed, £200m replacement on a new site on the outskirts of Dumfries.
Three bidders were selected to construct the facility earlier this year but one of them, Skanska, subsequently dropped out.
It leaves High Wood Health (Laing O'Rourke) and Balfour Beatty in the running to be named preferred bidder in September next year.
Construction work should get under way in 2015 with opening scheduled three years after that.
The BBC Scotland news website asked the two remaining bidders a number of questions about their companies and their credentials to build the hospital.
Do you have experience in hospital construction and, if so, what other such projects have you undertaken?
Balfour Beatty: "We are market leaders in the healthcare sector having designed, constructed and maintained many of the UK's most prestigious schemes. In Scotland our PPP projects include the Victoria Hospital in Kirkcaldy, Stobhill and Victoria Hospitals (pictured above) in Glasgow and the Royal Infirmary of Edinburgh.
"Other projects outside the central belt of Scotland include Lochgilphead Community Hospital, the refurbishment of Fraserburgh and Inverurie Hospitals and the modernisation of Fort George Medical Centre outside Inverness. Working in partnership with NHS Boards, we provide world-class hospital and research facilities which enable healthcare professionals to concentrate on delivering high quality patient care."
Laing O'Rourke: "In the UK our experience in the design and delivery of healthcare facilities has seen us deliver over £4bn worth of capital projects for the NHS over the past two decades.
"In addition, our international expertise includes extensive work in Australia (for example the major extension and upgrade to Nepean Hospital, Western Sydney - pictured above) and The CHUM in Montreal, Canada - one of the world's largest and most complex hospital construction projects."
Have you worked on other major building projects in Dumfries and Galloway before?
Laing O'Rourke: "Yes, we have previously delivered the Midpark Hospital in-patient mental health facility, which opened in 2012."
Balfour Beatty: "Through Scotland TranServ the company is responsible for the management and maintenance of the trunk road network in Dumfries and Galloway."
How many employees does the company have and what is its annual turnover?
Balfour Beatty: "Balfour Beatty has 50,000 employees worldwide and an annual turnover of £11bn."
Laing O'Rourke: "In 2012/13 the Laing O'Rourke Group turned over £4.4bn. We currently employ over 15,000 people."
How committed is your company to using local workers and sub-contractors on any project?
Laing O'Rourke: "Laing O'Rourke is fully committed to positively contributing to the areas in which we work.
"Unique to the UK construction industry, we operate using an integrated delivery model and a directly-employed workforce; supported by our industry-leading training and development programmes, this enables us to create positions that lead to sustainable industry careers.
"We have an excellent track record for working with local employment, skills and education providers to not only target employment opportunities within local communities, but to also offer work experience and employability support.
"Where we subcontract externally, we seek opportunities to engage local businesses and provide support for them to understand and access our procurement route; where appropriate we also work closely with local subcontractors and our trusted existing external supply chain to help them support new employment opportunities."
Balfour Beatty: "Wherever we operate we aspire to be integrated within the neighbourhood, supporting the local community, local businesses and the local workforce. Balfour Beatty is fully committed to using as many local businesses and suppliers as possible for the Dumfries and Galloway new acute hospital project.
"We have already commenced engagement with local Small and Medium Enterprises and are being supported by Dumfries and Galloway Council and the Dumfries and Galloway Chamber of Commerce."
What is company policy on blacklisting and zero hours contracts?
Balfour Beatty: "We have previously acknowledged using the services of the Consulting Association up until 2009 to carry out reference checks on employees in the construction industry. We have expressed regret over this. It should not have happened and we have apologised to the workers and families who may have been adversely affected over the years by this.
"Since 2009, our company code of conduct prohibits the checking of references for job applicants without first obtaining their consent and prohibits the use or support of databases of 'blacklisted' people and the supply of information to such databases.
"For Balfour Beatty this is an historic issue. Following the receipt of the Information Commissioner's enforcement notices in 2009, we undertook steps to address the shortcomings revealed in our data protection practices which included the introduction of a group-wide data protection policy and a revised ethical code of conduct, both introduced in 2009.
"Balfour Beatty is one of eight major UK construction companies which have joined together to establish The Construction Workers Compensation Scheme to compensate construction workers whose names were on The Consulting Association (TCA) database.
"Balfour Beatty offers a very small number of zero hours contracts to cover a specific short-term or unpredictable business need in our services business. These contracts offer a flexible way of working which suit some people and we always make it clear when we advertise what the terms of employment will be for these roles."
Laing O'Rourke: "Laing O'Rourke is committed to being an equal opportunities employer. We seek to maintain the highest standards of employment practice and employ a workforce that reflects the diverse society in which we live and work.
"No job applicant is to receive less favourable treatment on the grounds of age, disability, gender or gender re-assignment, race, colour, nationality, ethnic or national origin, religion or belief, sexual orientation, medical condition or offending background.
"We do not maintain or apply any blacklist in relation to our recruitment procedures. We carry out screening processes in relation to recruitment but these are with the consent of our potential employees and in accordance with the law.
"We do not use zero hours contracts."