Chinese antique found in Hawick garage nets £16,000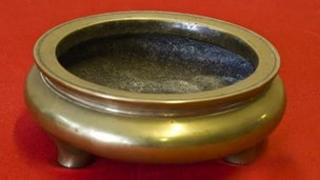 A 450-year-old Chinese bronze censer found in a garage in the Scottish Borders has fetched £16,000 at auction.
It was found when Border Auctions were clearing the home of a Hawick man following his death.
Two of the items - used for the burning and holding of incense - were found in his garage.
Auctioneer Maurice Manning said he recognised what they were straight away, but did not realise how old one of them was.
He put the items up for sale via his website, which sparked worldwide interest.
He said: "We are used to having a few bids but this time there were three people bidding live, three on the telephone and four commission bids in the book which is unheard of.
"I just sat and watched the price go up and up, it really took us by surprise.
"We didn't expect it to go as high - but I was thrilled and absolutely gobsmacked."
The successful bid of just over £16,000 ended up being from a Chinese man living in the USA.
Mr Manning added: "The selling family would like to remain anonymous but they are pleased."