World ice hockey brings financial boost for Dumfries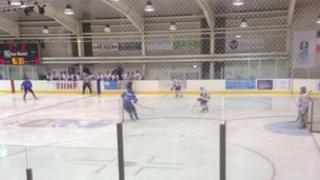 A major ice hockey event in Dumfries is estimated to have generated more than £100,000 for the local economy in accommodation expenditure alone.
The town's Ice Bowl hosted the International Ice Hockey Federation's Under-20 world championships.
The competition concluded on Sunday with Italy taking top spot.
Dumfries and Galloway Council events champion Colin Smyth said the Ice Bowl had become an "established international ice hockey venue".
Andy French, General Secretary of Ice Hockey UK, said: "I'm thrilled at the whole week we have had in Dumfries.
"The council has met the exacting standards required to host an international ice hockey competition.
"And, for fans of the sport, it's been a special time, welcoming the Stanley Cup to Scotland for the first time, and celebrating 100 years of ice hockey in the UK."
Mr Smyth said the tournament had left "many legacies" for the region.
"There is every possibility that we will attract further major tournaments and matches to the Ice Bowl and we have developed ice hockey as an engrossing, family-friendly spectator sport in this area," he said.
"The council is committed to an ambitious programme of support to major festivals and events in our region, to create the kind of memorable moments and sporting drama we have witnessed over the past seven days."
Italy won the championship gold medal, with Kazakhstan taking silver and France bronze.
The Great Britain team managed two wins including a shoot-out victory over pre-tournament favourites France and a defeat of Japan.