Microwave wheat bag causes fire in Melrose sheltered housing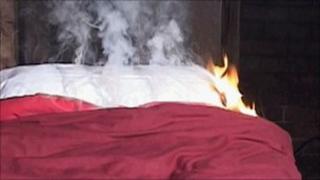 Firefighters were called to a sheltered housing complex in the Borders after an overheated microwaveable wheat-filled bag led to a bedroom fire.
The alarm was raised at Priorwood Court in Melrose at about 03:15.
An elderly woman was treated at hospital for smoke inhalation and minor burns after radiated heat from the bag set fire to her electric blanket.
Scottish Fire and Rescue said they had been called out to a number of incidents involving wheat-filled bags.