Scotland-England cross-border operation targets travelling criminals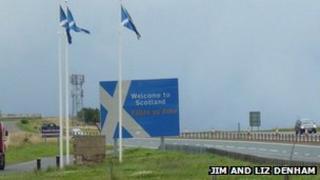 A cross-border police operation has been staged targeting travelling criminals in the south of Scotland and northern England.
About 90 officers from Cumbria, North Yorkshire, Northumbria and Scotland were involved in Operation Checkpoint.
More than 300 checks were carried out and a number of stolen vehicles recovered.
North Yorkshire Police also made two arrests for alleged money-laundering during the operation.
Insp Richard Quinn of Cumbria Constabulary said it was "vitally important" to work across borders.
"Criminals travel up and down our roads to commit crime - mostly thefts from rural communities," he said.
"If criminals don't recognise boundaries then neither should we."
He said many thieves used back roads to commit crime in rural areas.
"They are opportunistic and think that by travelling to another county where they are less known that they are less likely to be caught," he said.
"Operation Checkpoint aims to prove these criminals wrong.
"By working closely together we can help keep all our communities safe places to live and work."
He said he hoped the operation held on Tuesday would be the "first of many".
North Yorkshire Police's Assistant Chief Constable Paul Kennedy said it built on Operation Hawk introduced last summer to protect his area's rural communities.
He said it sent a "clear message" to criminals that their activity would not be tolerated.
"As well as working with other forces in running these operations we work closely with the residents in our rural communities," added Insp Kevin Oates of Northumbria Police.
"Local people are our eyes and ears on the ground and we rely on their information to let us know what's going on and where.
"We already share lots of information with residents through community messaging and FarmWatch but I'd urge anyone who sees any suspicious vehicles or people in rural Northumberland to report it to us straight away, and we will investigate."
'Reassure public'
Insp Gordon McKnight of Police Scotland said it was the continuation of work already under way.
"For a number of years now we have been fighting incidents of rural crime right across Dumfries and Galloway and are aware that in many cases criminals are travelling here to commit crime from other areas, from both north and south of our borders," he said.
"Police Scotland is keen to play a collaborative part in Operation Checkpoint in order to target those who travel to commit crime in the forces involved.
"We would also like to reassure the public that we will keep any disruption to the law abiding public to a minimum in our quest to catch and deal with those who are using the roads network to travel and commit crimes."