Borders Railway: Council retains Carlisle rail goal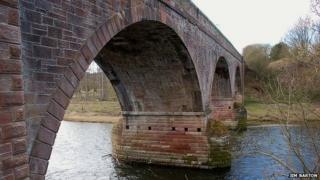 Scottish Borders Council has said its long-term goal remains to see the full restoration of rail services through the Borders from Edinburgh to Carlisle.
Trains will return between Edinburgh and Tweedbank, near Galashiels, in the Borders next year.
The Campaign for Borders Rail (CBR) called on the council to take measures to ensure the line, which closed in 1969, could be extended in future.
The council said significant work needed to be done to make it possible.
A rail service is scheduled to return between Edinburgh and Tweedbank, just south of Galashiels, next year.
Major work on restoring that section of the line is well under way.
However, the CBR has argued that not enough is being done to make it possible to take trains to Carlisle in future.
It cites a number of examples of potential obstacles that it would like to see the council address.
The campaign group said the line of the old route at Tweedbank, just beyond the new station, had been earmarked for industrial development.
It also highlighted that although the path of the former railway was largely unobstructed at Hawick, the line was not marked on the local development plan's settlement proposal maps.
The CBR added that no land had been set aside for a possible Hawick station and also pointed out that further south, at Newcastleton, land needed for a new bridge had been allocated for housing.
In response, the council stressed that it wanted to see the reopening of the Borders Railway south to Carlisle.
It added that significant work needed to be done to determine the precise route of any development of the railway beyond Tweedbank.
Once that had been achieved, the authority added, it would then be appropriate to put the detail into maps in the local development plan.