Birthday appeal over missing Annan man Ian Carruthers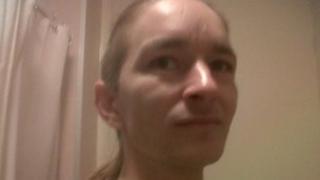 The family of a man missing for more than a month has issued a plea for information ahead of his birthday.
Ian Carruthers was last seen in the early hours of Friday 17 January in the Longmeadow Avenue area of Annan.
He turns 31 on Friday and his sister Tracy Kindness said spending the day without him would be "devastating".
Specialist land and sea searches, door-to-door inquires, a police helicopter search and CCTV trawls of the town have so far failed to trace Mr Carruthers.
Ms Kindness said: "It is Ian's birthday on Friday and the thought of him spending it alone breaks our heart.
"We are a close family and want to spend his day all together.
"He usually is in touch with our mum every day, so for him not to be in touch for so long just isn't like him."
She said the family would "love nothing better" than to have him back to celebrate his birthday this weekend.
"My mum is distraught with not having him home and the house is a quieter place without him," she said.
"If we have to spend his birthday without him it will be devastating for all of us.
"I would urge anyone who has seen Ian or has any information on where he is, to please get in touch with police.
"Every family should celebrate birthdays and special occasions together and we are no different - we want him home."
Insp Gordon McKnight said everyone could understand what the family had been going through during the past six weeks.
"When moments like birthdays come up, it makes the situation all the more difficult as you are celebrating someone who is not there to share the experience," he said.
"If you have seen or heard anything about Ian's disappearance that might ease the family's distress please give Annan police a call on 101.
"No matter how insignificant you think the information is, it might prove to be the vital piece we need."
He thanked the Annan community for its support and said "significant" inquiries were ongoing.