Dumfries Dock Park overhaul launch events planned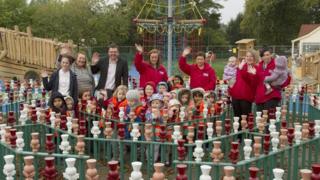 A two-week launch programme is being planned to mark the completion of a £2m project to revitalise the historic Dock Park in Dumfries.
Work on the facelift is expected to end this month.
The opening events are scheduled to coincide with the school holiday break in April.
The regeneration of the Dock Park has been financed through a combination of Heritage Lottery funding and investment from Dumfries and Galloway Council.
The work has involved the restoration of the park's key historic features such as its bandstand, as well as the construction of new facilities including a colourful children's play area - which is already open to the public - and a Peter Pan-themed mini golf area.
Youth festival
The local authority is lining up a series of launch events between 5 and 17 April.
It follows a planning day hosted by the local authority late last year which brought together representatives from community groups such as Friends of Dock Park, Civic Pride, the Electric Theatre and DG Voice.
It has led to plans being developed for a mini tattoo and youth festival on successive weekends.
A wide-range of other events is also being planned including art, music, dance and sport activities.
The Heritage Lottery award for the Dock Park is also being used to employ an officer and a greenkeeper to promote and maintain the park.