River Cree record flow sparks Newton Stewart flood action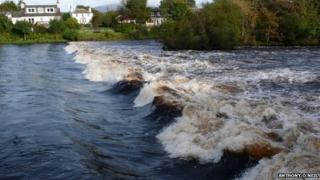 A £3.4m protection plan has been drawn up following flooding in Newton Stewart when the River Cree reach its highest flow levels since records began.
Studies were undertaken following problems in November 2012.
They identified two recommended actions - the construction of defence walls and raising the Sparling footbridge.
Dumfries and Galloway Council is being asked to spend £20,000 towards taking the major scheme forward and a range of other lower-cost measures.
Studies have looked at ways of tackling flooding on both the River Cree and the Penkiln Burn.
They ruled out upstream storage and the removal of a gravel island in favour of building defence walls and raising a footbridge.
The council said the next steps were to develop these options into "deliverable solutions and determine the availability of funding for the works".
The local authority said Scottish government help would be needed to take it forward.
In the meantime, councillors will be asked to agree to spend £20,000 for these investigations and to consider lower-cost early intervention measures.
An additional £10,000 is being sought to install equipment to support Sepa in developing a flood warning system similar to that operated on the Whitesands in Dumfries and offering a three-hour warning of flooding.
'Warning system'
Another option being considered by councillors is the development of a "mini flood pod" which would be based in Newton Stewart
It carries equipment such as barriers and absorbent sandbags that can be used to protect property.
Councillor Colin Smyth, who chairs the economy, environment and infrastructure committee, said it was "vital" to do everything possible to tackle flood problems in the region.
"It could take significant money to build defensive walls to create a full flood prevention scheme for the town and that will be subject to securing Scottish government funding," he said.
"However, in the short term an early warning system and flood pod could prove invaluable.
"If agreement is given to a flood warning scheme, locals who sign up will receive texts and emails alerting them to predicted flooding.
"This has proved beneficial in other parts of Dumfries and Galloway."